Saline Breast Implants
Saline-filled breast implants were approved by the FDA in May 2000.
A saline-filled breast implant has an elastic silicone rubber shell and is filled with sterile saline (saltwater).
During breast augmentation surgery, empty implants are placed into the newly formed pockets under your breast tissue and then filled with saline fluid to the size you and your plastic surgeon have agreed upon.
Silicone Breast Implants
Silicone breast implants were approved by the Food and Drug Administration (FDA) for use in the US in November 2006.
A silicone breast implant has an elastic silicone rubber shell and is filled with cohesive silicone gel.
Generally safe to use in women aged 22 years and over (or younger if the breasts have stopped growing).
Silicone implants are available in different sizes, profiles and shapes and can have a smooth or textured shell surface.
The consistency of the silicone gel can give the breast a more natural look and feel than that of a saline-filled implant.
If an implant leaks, the gel tends to remain within the implant shell. In contrast to saline implants, a leaking implant filled with silicone gel will not collapse.
Gummy Bear Breast Implants
Gummy bear breast implants, also known as form-stable implants, maintain their shape even if the implant shell is broken.
The consistency of the silicone gel inside the implant is thicker than that of a traditional silicone gel implant, making them a little firmer as well.
Gummy bear implants are available in different sizes, profiles and shapes.
Breast Implant Profile

Low Profile Implants
As the name suggests, low profile implants are lower in profile (relatively flat in appearance), offer minimal projection and have a larger diameter.
Recommended for women with wider chests.
Moderate Profile Implants
Moderate profile implants provide higher projection than low profile implants and have a lower diameter.
Recommended for women with smaller or narrower chests.
Tend to offer the most natural-looking results.
High Profile Implants
High profile implants have the lowest diameter (very narrow at the base) but provide maximum projection.
Recommended for petite women with narrow chests.
Tend to offer the fullest and most rounded results.
Breast Implant Shape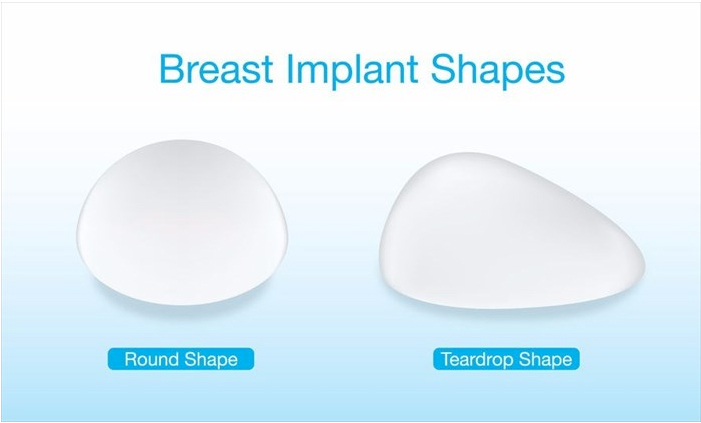 Round Breast Implants
Round breast implants are the original, most popular shape and still perceived as the shape that provides the most attractive results.
They are available as both saline or silicone implants and come in smooth or textured surfaces and different profiles.
Patients tend to experience minimal variation in fullness or projection between the top and bottom of the implant.
Recommended for women who desire an upper pole fullness (upper portion of the breast).
Feel softer than teardrop shaped implants.
Teardrop (Anatomical) Breast Implants
Teardrop breast implants are available as a silicone breast implant only and are designed to maintain their shape.
The gel used to fill these implants is thicker than that used in traditional silicone implants, which may make them "feel" less natural.
They tend to provide a more natural look with less upper pole fullness compared to round breast implants.
Breast Implant Texture

Smooth Breast Implants
Smooth breast implants feel softer and more natural and tend to move more freely within the breast during activities, similar to natural breast tissue.
Only available in a round shape.
The shell is not as thick as that of a textured implant.
Textured Breast Implants
Textured breast implants feel a little rough to the touch and have a firmer feel than that of smooth implants.
Available in a round or teardrop shape.
Scheduling a Consultation with Dr. Michael Horn
---
As a breast augmentation candidate, Dr. Horn and his staff will make sure that you are well informed of all options available to you.
Our Chicago plastic surgeon, Dr. Horn, is an expert in breast enhancement procedures, and has experience with all types of breast implants and will recommend the option that aligns best with your desired outcome and expectations. In order to make the process easier, we will also perform a 3D simulation that will allow you to visualize the result with our different Chicago breast implant types, profiles and shapes.
We recommend you ask as many questions as possible during your consultation. We will address any concerns you may have, provide you with all the information necessary, and discuss the pros and cons of each available option for you, so you can make an informed decision to achieve the result you desire.